Part Number: 24204
Manufacturer's Part Number: 563322372
The Testo 320B flue gas analyser with hi-res colour graphic display. Measures and displays flue gas oxygen, carbon monoxide, temperature and pressure. Features 180 mm flue gas probe with built in filter, Li-ion rechargeable battery, integrated magnets and condensate trap. Compliant with BS 50379 parts 1-3.

NOTE: ANALYSER KITS WILL BE DELIVERED DIRECT FROM OUR SUPPLIER OWING TO INSTRUMENT CALIBRATION. UK DELIVERY WILL BE UP TO 7 DAYS – BUT USUALLY WITH 3 DAYS. ORDER CANCELLATION MAY INCUR CHARGES.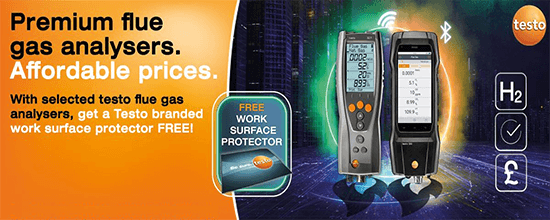 Product Specification
Ambient Temperature
-20 to 50° C
CO Range
0 to 4,000 ppm
Dimensions
Analyser: 240 x 85 x 65 mm
Draught
-9.99 to 40.00 mb
Kit Contents
Analyser with protective cover,
Flue gas probe (180 mm long x 6 mm dia.),
Pressure connection set,
2 x clamp probes (NTC),
Infrared printer,
USB mains adaptor,
USB cable,
Carrying case.
Operating Temperature
-5 to 45°C
Pressure
0 to 300 mb.
Temperature Range
-40 to 1200° C
Type
Flue Gas Analyser
Type of Analyser
Flue Gas
Weight
Analyser : 573 g. Probe : 346 g.
Ask a Question
Product Options